"many thanks to them FOR SHARING OUR PASSION AND making DISCOVER OUR BRAND"
Amelie & Nicolas Hirigoyen présentation, founders & owners Miel.A Tahiti
Photoshoot Holiday's spirit
Miel.A Tahiti jewelry
fenua'orama - december 2017
Article based on the new wedding collection by Miel.A Tahiti Mademoiselle M p.13
Article based on the first digital festival in Tahiti and the realization of the first dress and accesories connected. A team building work by Gaelle F, Fenua pop, Miel.A Tahiti
Présentation of the designers in competition for the 3th favorite designers contest. Miel.A Tahiti was selected.
Fenua'Orama - January 2015
On cover! Onaku Ellis "the miss with green eyes"
Necklace constellation by Miel.A tahiti
On fenua'orama cover vini-vini necklace et constellation earrings with silk pompom.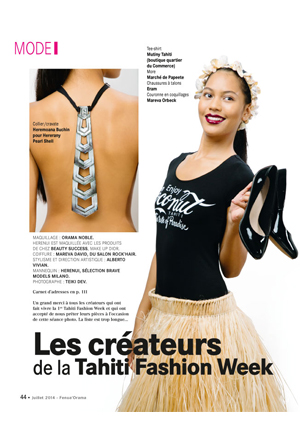 The designers of the 1st Tahiti Fashion Week. Necklace and bubble earrings by Miel.A Tahiti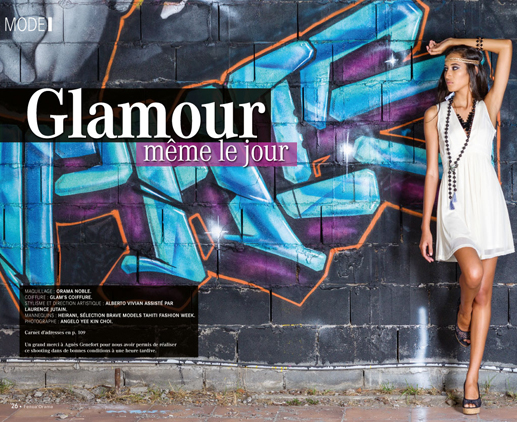 Fenua'Orama - Septembre 2014
Nacre de Tahiti siglée Miel.A Tahiti, Graines des Marquises et perles semi-precieuses d'obsidiennes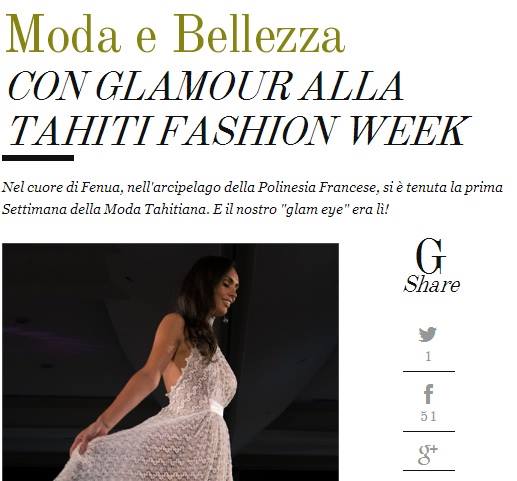 Site web Glamour Italia - Juin 2014
Retour en image sur la soirée de prestige de la 1ère Tahiti Fashion Week à l'hôtel Le Méridien Tahiti. Miel.A Tahiti a accessoirisé le défilé de la créatrice Gaëlle F
INSTANTANE MAG - september 2018
Men's collection By Miel.A Tahiti
New collection Tropical lace
Photoshoot Cocoon. Ocean jewelry by Miel.A Tahiti
Shopping / headband accessories. Mademoiselle M p 56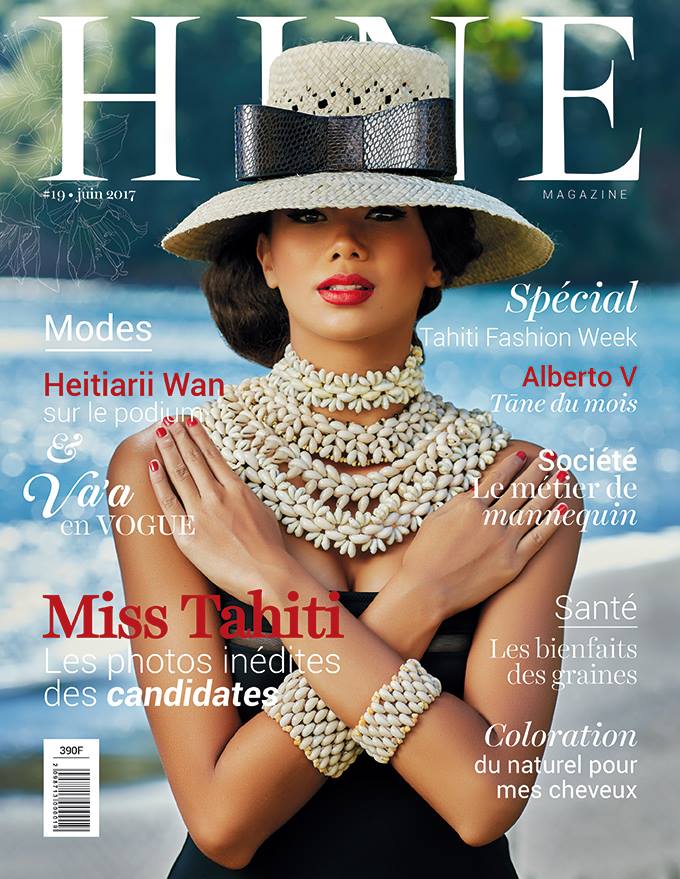 Photoshoot "Tahiti fashion" bracelet & ring realised on the 1st digital festival p.31 & "va'a in vogue" unique earrings ocean of stars p.43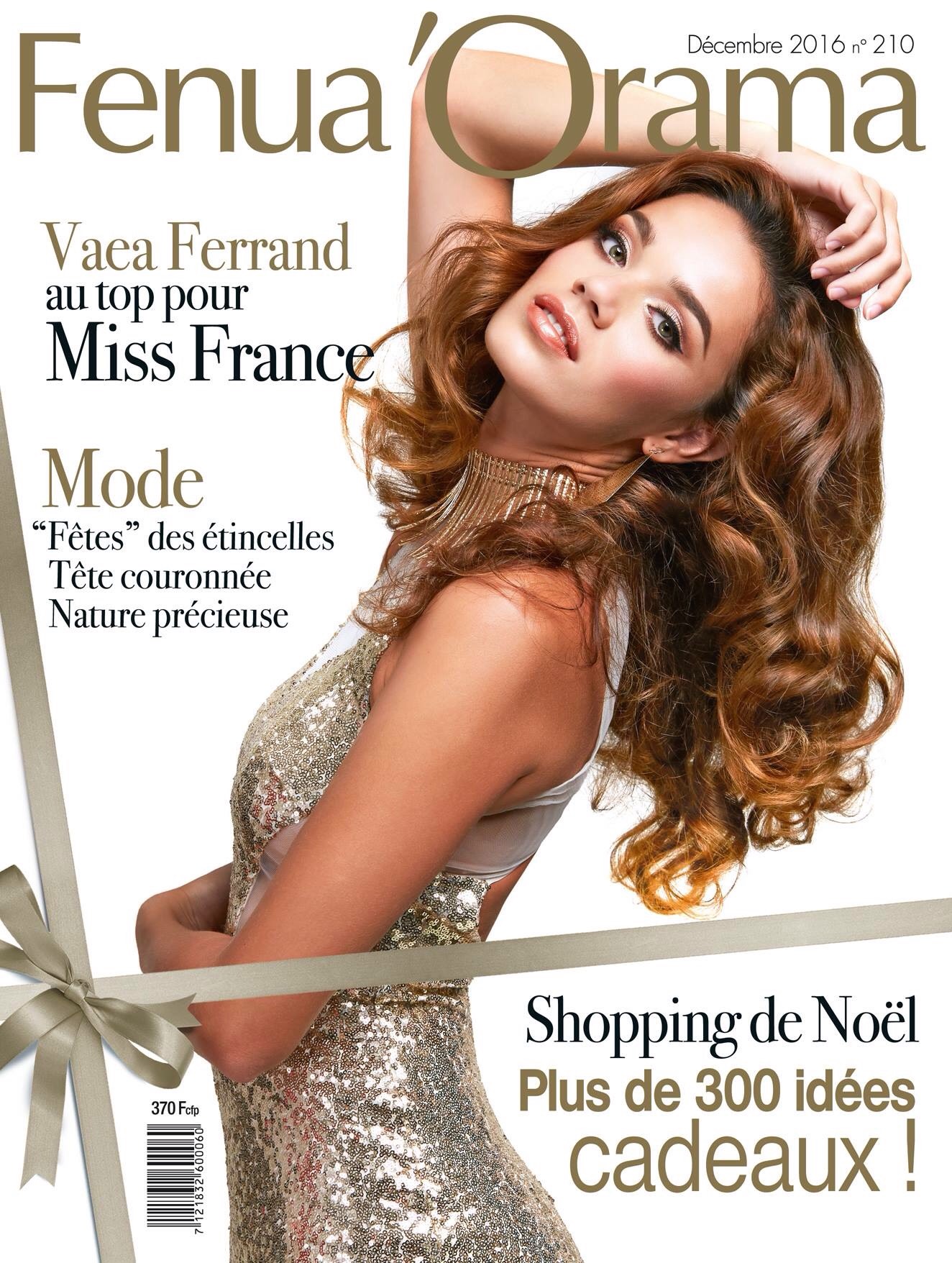 Fenua'Orama - December 2016
Fashion " precious nature" presentation of Bee Mine collection by Miel.A Tahiti page 61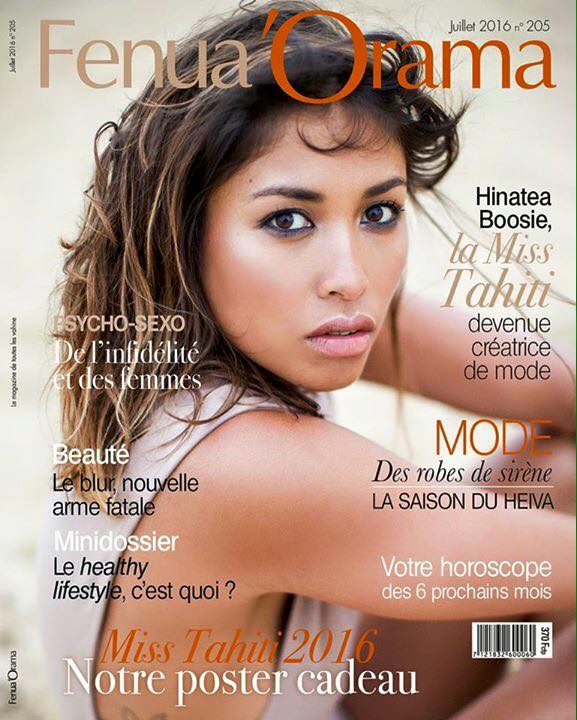 Back to pictures on the fashion show "coup de cœur créateurs" a designers contest. Presentation of bee mine necklace and EIAO bubble earrings by Miel.A Tahiti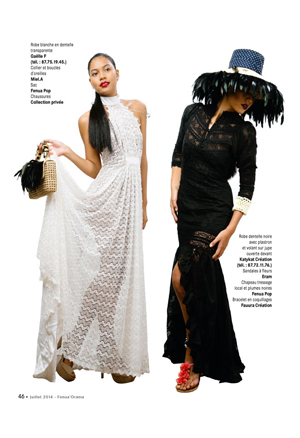 Fenua Orama / juillet 2014 n°181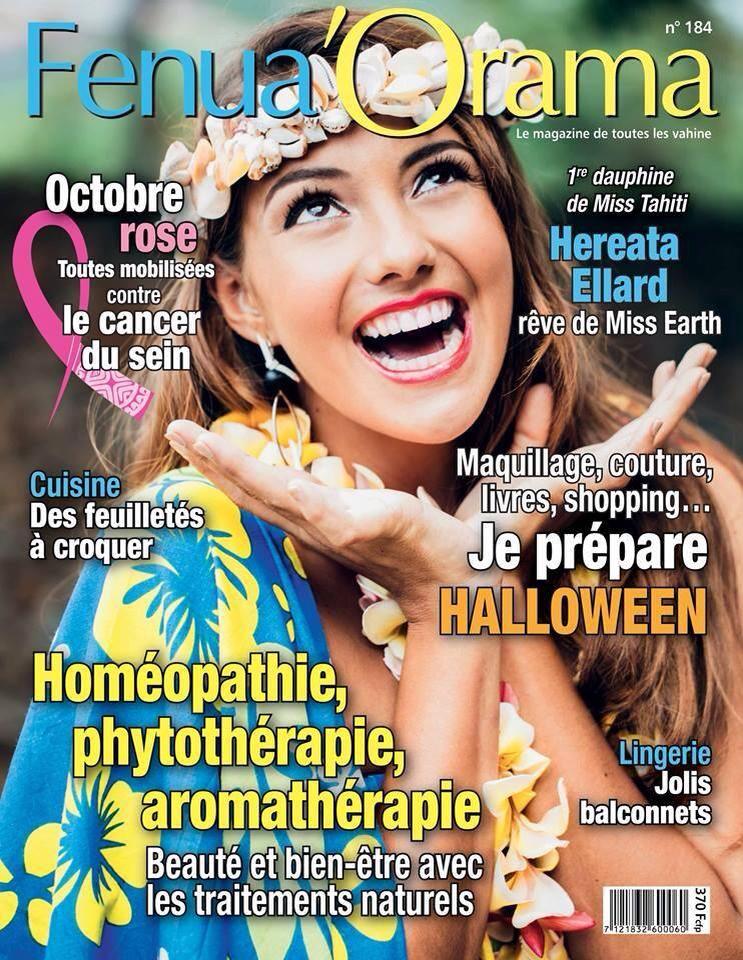 Fenua'Orama - Octobre 2014
A la une! Hereata Ellard rêve de Miss Earth - Boucles d'oreilles évasion by Miel.A Tahiti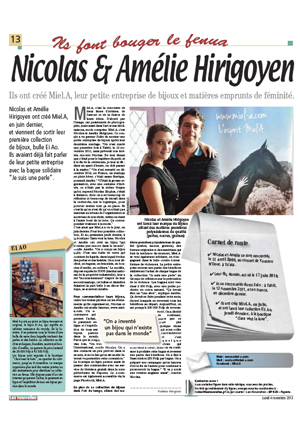 Les nouvelles de Tahiti - novembre 2013
Rubrique « ils font bouger le Fenua » présentation des fondateurs et créateurs de la marque Miel.A Tahiti